As a quick review, remember that scientists are mainly interested in the properties of molecules. One characteristic of a molecule that explains a great deal about these properties is their molecular orbitals. Recall the following diagram regarding what the scientist must know in order to calculate the molecular orbitals.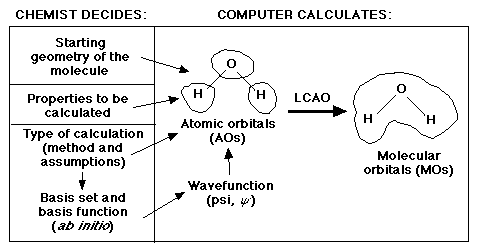 One of the three major decisions for the scientist is which basis set to use. There are two general categories of basis sets:
Minimal basis sets

a basis set that describes only the most basic aspects of the orbitals

Extended basis sets

a basis set with a much more detailed description
Basis sets were first developed by J.C. Slater. Slater fit linear least-squares to data that could be easily calculated. The general expression for a basis function is given as:
Basis Function = N * e(-alpha * r)

where:

N =

normalization constant

alpha =

orbital exponent

r =

radius in angstroms
This expression given as a Slater Type Orbital (STO) equation is:

Now it is important to remember that STO is a very tedious calculation. S.F. Boys came up with an alternative when he developed the Gaussian Type Orbital (GTO) equation:

Notice that the difference between the STO and GTO is in the "r." The GTO squares the "r" so that the product of the gaussian "primitives" (original gaussian equations) is another gaussian. By doing this, we have an equation we can work with and so the equation is much easier. However, the price we pay is loss of accuracy. To compensate for this loss, we find that the more gaussian equations we combine, the more accurate our equation.
All basis set equations in the form STO-NG (where N represents the number of GTOs combined to approximate the STO) are considered to be "minimal" basis sets. (Remember our definition of minimal.) The "extended" basis sets, then, are the ones that consider the higher orbitals of the molecule and account for size and shape of molecular charge distributions.
There are several types of extended basis sets: