Home
Ionization Energy
Ionization Energy Main Page
Students
References/Support Materials
Teachers
Atomic Orbitals
Lab Activities
Ionization Energies
Support Materials
Quick Guide to DISCO Output File
Related Links
SUCCEED's Computational Chemistry
Developers' Tools
Electronegativity is an atom's attraction for electrons in a bond. In other words, it is a measure of the drawing power of an atom when it is part of a compound. The greater the atom's power to attract electrons, the greater the electronegativity. Electropositive is a term used to describe elements with a very low electronegativity such as alkali metals. There are three main scales use to calculate the electronegativity, the Pauling, Mulliken, and Allred-Rochow scales. For our purposes, we will be talking primarily about the Mulliken scale.

The Mulliken scale calculates electronegativity as the average of the ionization energy and the electron affinity.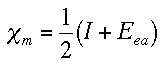 This scale is beneficial because it takes into account the differences in electronegativites of different orbitals as well as the atom's state of hybridization.
Some electronegativity calculations are given below.
Atom
Xm
Atom
Xm
H
3.06
Ga
1.34
Li
1.28
Ge
1.95
Be
1.99
As
2.26
B
1.83
Se
2.51
C
2.67
Br
3.24
N
3.08
Kr
2.98
O
3.21
Rb
0.99
F
4.42
Sr
1.21
Ne
4.60
In
1.30
Na
1.21
Sn
1.83
Mg
1.63
Sb
2.06
Al
1.37
Te
2.34
Si
2.03
I
2.88
P
2.39
Xe
2.59
S
2.65
Cl
3.54
Ar
3.36
K
1.03
Ca
1.30
Atoms of various elements carry different electronegativities. Thus, when atoms form into molecules, the electronegativity is distributed unevenly. The distribution of the electronegativity creates a dipole in the molecule. (Some of you may need to review polarity.)


Back