Behavior Overrides
In SyntheSim mode, variables can be assigned an override behavior. For example, you can specify a behavioral pattern such as exponential growth or a sin wave. You can also freeze variables at their intial values. Control/Right click on a variable and window will appear containing the override options.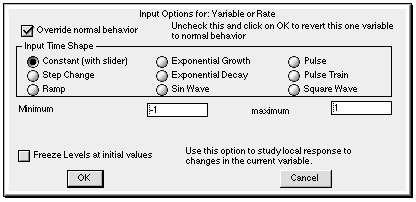 Procedure:
Click in the bubble beside the desired behavior.
Parameters for that particular behavior will then appear in the window. Adjust the parameters as desired and select OK to enact the override.
Cancel will exit this menu without overriding the behavior.
There are two ways to cancel overrides after they are enacted:

Control/Right click on the variable and de-select the check-box Override normal behavior. Click OK to finish.
Click on Stop Override on the toolbar to cancel all active overrides.