Click the to see the text signed
DEAF CS Home
NEW! - View ASL annotated model of the spread of disease.
intro

ASL

By clicking on the you can see the text on the student pages signed in ASL.

---


ASL

DEAF CS is a collection of activities and lessons that use modeling and simulation technologies to help students and their teachers explore math and science concepts. As the deaf students read the material, they can access the concepts in their natural communication mode through authentic ASL, signed by deaf educators and students.

---

Enter


ASL

DEAF Interactivate is a collection of Java-based interactive, computer applications. These tools are designed to teach students math and science concepts through hands-on experimentation.


---

Enter

ASL

Deaf SUCCEED is a collection of complete inquiry based math and science lessons. These lessons are designed to walk the students through the exploration of the math and science concepts.


---


ASL

Selected words throughout the text are linked to an extensive signed glossary. This glossary provides assistance for more difficult vocabulary in both English text and ASL clips.

---


ASL

A second dictionary of technical signs for the field of Computational Science is available for teachers and interpreters. These signs have been developed by a group of scientists, deaf professionals and interpreters. Use the links in the yellow box at the left to explore these and additional resources.

---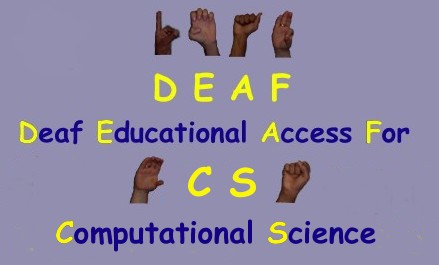 Developed by
The Shodor Education Foundation, Inc.
Copyright © 2002-2005 by The Shodor Education Foundation, Inc
This project is supported, in part, by the National Science Foundation
Opinions expressed are those of the authors and not necessarily those of the National Science Foundation.