Project SUCCEED:
Stimulating Understanding of Computational Science through Collaboration, Exploration, Experiment, and Discovery
---
2008-2009 SUCCEED Workshops
Visit the workshop calendar to view the current schedule.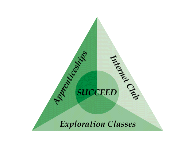 ---
SUCCEED Remembered
To see what's gone on in past workshops...
---
Interested in SUCCEED Workshops?
During the fall and spring we offer half-day Saturday and evening workshops for middle and high school students. These workshops introduce participants to a wide variety of computer-enhanced scientific topics. The material covered is taken from our weeklong summer workshops. Our summer programs begin in early June and end prior to the start of school in mid-August. Our summer schedule includes offerings for both middle and high school students. You can always view a list of our current and upcoming workshops.
SUCCEED workshops are held in the training facility at the Foundation offices. We are located in the Durham Centre, 300 W Morgan Street, in downtown Durham. The Durham Centre is located adjacent to the Durham YMCA, the Marriott/Durham Convention Center, and the Carolina Theater. Directions are available from our maps page.
---
Project SUCCEED STELLA Models Online
---
Contact the SUCCEED Program Director.
---
Last Update:
Please direct questions and comments about this page to WebMaster@shodor.org
© Copyright 1997-2007 The Shodor Education Foundation, Inc.