On-Site Information
Lodging: We will be staying in Appalachian (App) Heights. Each airconditioned apartment has 2 bedrooms and bathrooms with a shared kitchen and living room area. Participants will each have a private bedroom/bath. Make yourselves at home; kitchens are fully equipped with a stove, microwave, and refrigerator. Be aware that there are no dishes or utensils in the room. Linens will be provided and consist of:
2 towels / 1 washcloth
2 sheets / 1 pillowcase
1 pillow / 1 blanket
Please note that there is a live phone jack in the room, but no phone. If you want to be able to make local calls and accept incoming calls to your room, you will need to bring a phone.
Participants can check into rooms between 4 and 6 p.m. on Sunday, June 24. Checkout is the following Saturday, June 30, between 11 a.m. and 1 p.m. Persons in need of early check-in or check-out should contact Holly Hirst as soon as possible. Upon check-in, you will be issued an ID card. Keep this with you! It is your bus, library and meal ticket.
You will have access to the pool (during open swim hours), the library, and the Appalcart (a town-wide bus transportation system). You can ride the Appalcart to most of the businesses in Boone and all of the academic buildings on campus. Persons interested in access to the student recreational centers -- exercise equipment and racquet ball courts -- can get access by asking Holly for passes.
Parking: Upon check-in you will be given a parking hangtag or decal which will allow you to park in the App Heights parking lot and the parking lot adjacent to Walker Hall as well.
Meals: You will be eating in the University Cafeteria in the west wing of Wellborn Hall. During summer conferences and institutes -- of which there are many! -- meals are cafeteria style with several selections, including vegetarian. Seconds are available upon request. Take your ID with you when you go to the Cafeteria -- You will need to present it to the cashier before making your selections. Identify yourself as a Conferences and Institutes Participant, if anyone asks.
Classes: Classes will be held in Rooms 209B and 210 Walker Hall. The walk from App Heights to Walker is short, but involves a steep grade. The Appalcart runs from Walker to App Heights every fifteen minutes for those who don't want to walk.
Workshop Schedule: The table below lays out our planned schedule; we may adjust this slightly as the week progresses.
Sunday
4:00 - 6:00
Check-in at App Heights and dinner in Welborne Hall
7:00 - 9:00
Opening dessert reception at Holly Hirst's House -- (map)
Weekdays
6:30 - 8:30
Breakfast
8:30 - 11:30
Morning Session: primarily discussion and activity
11:30 - 1:30
Lunch
1:30 - 4:30
Afternoon Session: a mixture of discussion and lab
4:30 - 7:00
Dinner (the cafeteria hours are 4:30 - 6:15)
7:00 - 9:00
Evening Session:* extra lab time
Saturday
6:30 - 8:30
Breakfast
8:30 - 11:00
Morning Session: participant presentations and discussion
11:00-1:00
Check-out
*Friday evening will deviate slightly from the schedule. Wednesday evening will be open for you to plan your own activities. Friday evening we will eat at 5:00 p.m. at a local restaurant. Also, for those interested in attending App Summer event on Friday night, the venue is a two minute walk from Walker Hall.

Weather: The weather in Boone in June is usually a mix of rainy and sunny with highs in the lower 80s and lows in the upper 50s (fahrenheit). BUT! be prepared with a jacket, raingear, warm clothing, light clothing, and sturdy walking shoes. In the last ten years, there have only been 9 days of temps reaching 90, with none of them in June. In that same 10 years, there have been many nights in June with temps dropping into the low 40s. Don't be fooled by the North Carolina location! Boone is at an altitude of 3,333 feet.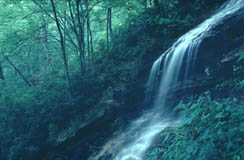 Other activities: Because of the large influx of tourists in the summer, there are many things to see and do in Boone. There are hiking trails in abundance, restaurants (even Mobil rated ones!), the Horn in the West outdoor theater, Tweetsie Railroad (if you are under 10 - or feel like you are), and one of the premier summer arts festivals in the southeast: An Appalachian Summer. If you wish to attend an App Summer event, let Holly Hirst know; if enough people want to attend, group tickets can be purchased! See Fun in Boone for a list of sites to browse for more information. Staying Longer in Boone: The Summer Institute schedule at Appalachian is very full. Unfortunately, this means that there are no rooms for persons to stay in the App Heights facility longer than from 4 pm Sunday until noon Sunday. If you are interested in extending your stay in the Boone area to take advantage of the excellent summer activities, please contact Holly Hirst for suggestions on lodging.
---
Last Update:
© Copyright 1999 The Shodor Education Foundation, Inc.